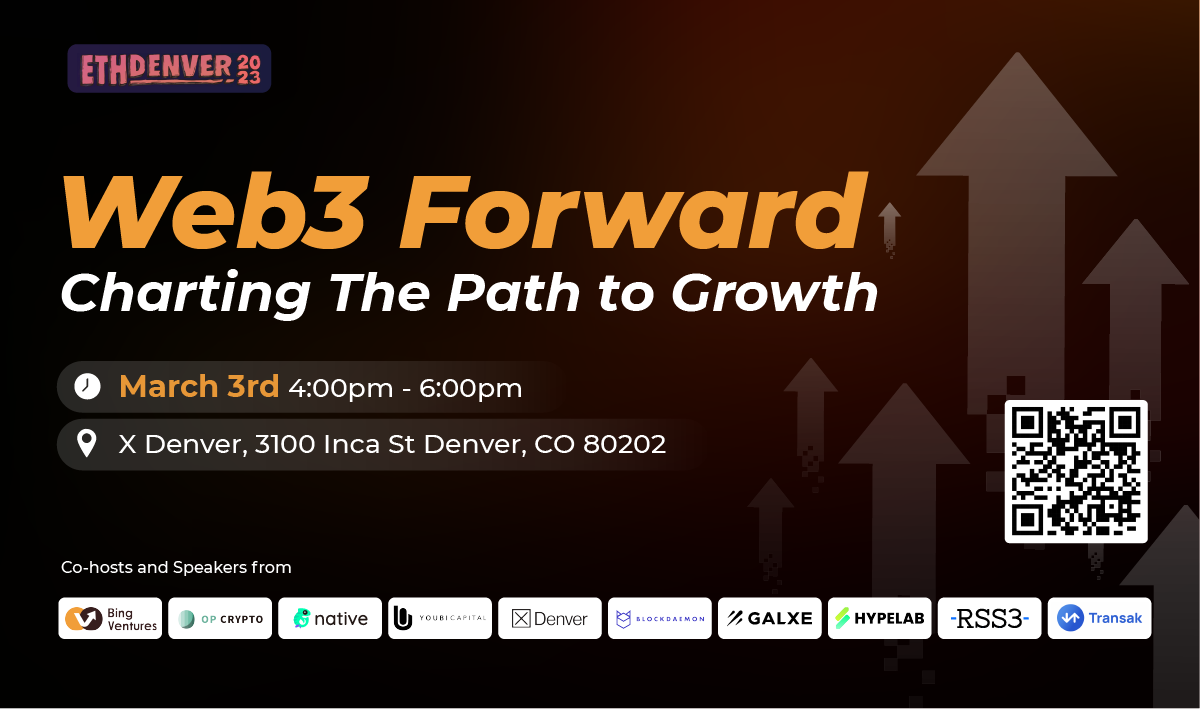 活动介绍
你不容错过的ETHDenver周边活动!
Bing Ventures、OP Crypto、Native、Youbi Capital将于3月3日当地时间下午4点在美国丹佛联合举办主题为「Web3 Forward: Charting The Path to Growth」的ETHDenver周边活动,邀请来自Blockdaemon、Galxe、Hypelab、RSS3和Transak的重磅嘉宾探讨项目增长策略与技巧。
活动注册:https://lu.ma/godenver
Greetings fellow crypto enthusiasts!
We are excited to invite all founders and developers to join us at Web3 Forward: Charting the Path to Growth, a special event cohosted by Bing Ventures, Native, OP Crypto, Youbi Capital, and X Denver at EthDenver. This event will bring together Growth Masters from Blockdaemon, Galxe, Hypelab, RSS3, and Transak, who will generously share their insights on community building, business strategies, marketing tactics, and revenue growth. Join us and be inspired by the best in the industry. Don't miss out on the chance to supercharge your growth strategy and take your crypto project to the next level. Register now and secure your spot at this unparalleled event!
Complimentary refreshments and drinks will be provided. See you there😃
Join the event TG group: https://t.me/+8BDa4RZJlJhjNDkx
Venue
Located in the heart of city, the rooftop lounge at X Denver hosts a full-service bar and restaurant and is just steps away from the outdoor terrace and pool deck. Firepits included.